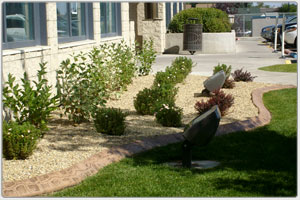 Our curbs are extruded through a specialized machine. The finished product not only looks great, it's cost efficient and reduces your overall maintenance time/costs as it delivers a permanent edge, helping stop the growth of grass in your flower beds. Our curbs are sealed with a high gloss sealer to lock in the colour and to protect the surface. To clean the surface, just wash down with water. It's that easy.
Our curbs can be made in the following profiles and can be hand stamped and coloured to enhance the look of your home or business.

Walkways
Our Walkways are extruded 24" wide and can be stamped and coloured to achieve a specialized look that normal concrete can not deliver.

Parking Lot Curbs
Our parking lot curbs are available in a 4" x 4" profile or a 6" x 6" profile.