The Flower Patch was started in 1977 by my mother, Elaine. She started the business in the basement of our house in Lake Bonavista while us kids were growing up. She made custom floral arrangements from both live and silk flowers. Elaine was fairly well known for her talented eye to detail. To this day I have not seen another person's flower arrangements look the same as hers. She closed the business down in the late 1980's to return to her job as a bank account manager.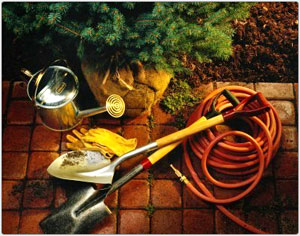 Both mom and dad, with the help of us kids, have landscaped their yard over the last 18 years, adding four ponds, one river, and over 2000 plants. After watching mom and dad over the years spending all the time in the garden and seeing the enjoyment they got out of it I became interested in it. They won various awards with the Calgary Horticultural Society for best curb side appeal, newly landscaped yard, and container gardening.
I opened up The Flower Patch again in 2002 offering landscaping / maintenance. Over the years we have established a great relationship with our clients. With service as dependable as the sunrise, our business has grown a lot, offering a wide variety of services.
Today, we have the latest equipment on the market and have several trained and uniformed employees, including my mother and father.