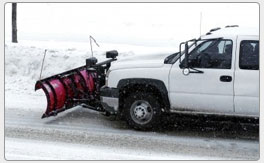 Our snow removal services include plowing/sanding of parking areas, clearing of all walkways and emergency exits. We also offer ice management solutions.
Our process includes the use of Bobcats, plow trucks, sweepers, high-powered backpack blowers, scrapers, and sanding trucks. Our plows use patented down pressure technology to increase the scraping capabilities of a plow.
All of our snow service is completed within 24 hours of a single snow fall or once every 24 hours in the event of continuous snow fall. We are available 24 hours a day to meet the needs of your site.